This list is not comprehensive, but it lists some common conditions we treat in our office.


Pre- and Post-Surgical Injuries
Sports Injuries
Auto Injuries
Ankle Pain
Back Pain & Sciatica
Balance Dysfunction
Bursitis
Capsular Restriction
Carpal Tunnel Syndrome
Cervical Spine Dysfunction
Chronic Fatigue Syndrome
Chronic Pain
Degenerative Disc Disease (DDD)
Degenerative Joint Disease (DJD)
Fibromyalgia
Fractures
Frequent Falls
Frequent Headaches
Frozen Shoulder
Gait Dysfunction
Hand Therapy
Hip Pain
Joint Replacements
Knee Pain
Lumbago (lumbar strain)
Migraines
Muscle / Joint Imbalances
Orthotics (custom footbed)
Pain Management
Patellofemoral Syndrome
Pelvic Floor
Plantar Fasciitis
Positional Vertigo
Post-Surgical Procedures
Sciatica
Shoulder Impingement
Tendonitis
Vertigo
Whiplash / Back Strain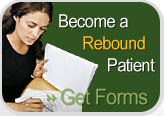 Forms require Adobe Acrobat Reader.



Our Physical Therapists don't just throw you into the gym for exercise and call that "treatment". Every patient is unique, just as every injury is unique. Which is why we treat each patient based on his or her individual needs. We believe it is our duty to take the extra time and care to educate our patients on proper body mechanics, strengthening exercises, and stretching techniques to strengthen, rehabilitate and maintain a healthy body as well as prevent future injuries.




At Rebound Rehab PT, our treatments consist of manual therapy, which means our therapists pride themselves in a literal hands-on approach to your healing. A typical visit includes joint mobilizations, soft-tissue massage, muscle and nerve stretching and therapeutic exercises and activities. To get you back to or better than your prior level of function, we also use ultrasound, iontophoresis (when prescribed by your physician), e-stim ("electrical stimulation"), manual traction, movement and postural re-education, gait training, and ice and/or heat treatment as needed.

Pre-Surgical PT
Many times, your surgeon may have you attend Physical Therapy prior to your scheduled surgery. Now why would you want to do that? Because the stronger you are going into the surgery, the better your chances are for a quicker recovery. Our therapists know what muscle groups need to be strengthened and how much is the right amount.

Post-Surgical PT
As we're sure your surgeon told you, surgical procedures often require Physical Therapy to bring back your range of motion and strength. Our therapists have specialized treatment protocols and create an individualized plan of treatment to help you reach your post-surgical goals.


We can help you set up a home or gym exercise program to keep you in shape and on-track for a healthy, well-balanced lifestyle that you deserve.




With all the sport programs we sponsor in the community around us, we know how often injuries, big or small, can occur during organized or recreational sports. Call 916.772.2909 and ask about our Sports Screens.