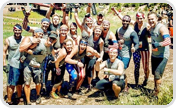 PREPARE for Tough Mudder June 2018 at Tahoe
View our 2013 ION Camera Team video HERE
---
For years, we have been volunteering their personal time to assist with injuries and wellness for the Whitney Wildcats.
We sponsor many local youth programs, such as the Whitney Junior Wildcats Football and Cheer and Rocklin Jr. Thunder; participate in local charity sports events that benefit schools; local runs like Run Rocklin; the Matt Redding Foundation; as well as larger charity events like The Tough Mudder, The Susan G. Koman Race for the Cure and The News 10's Coats for Kids in partnership with Swansons Cleaners, Tri-Counties Bank and the Salvation Army coat drive.

We take pride in the community we serve. Check out what we've been doing lately:



more on our community involvement


We'd like to welcome back former Team Rebound Aide-Now-Turned-PT, Mia! We are happy to have Mia's energy and personality back in the clinic! Come in and say hi if you remember Mia and welcome her back "home" with us.

We are crazier than ever and are not only gearing up for our 9th year of having a Tough Mudder team in June. Ask how you can join us today!